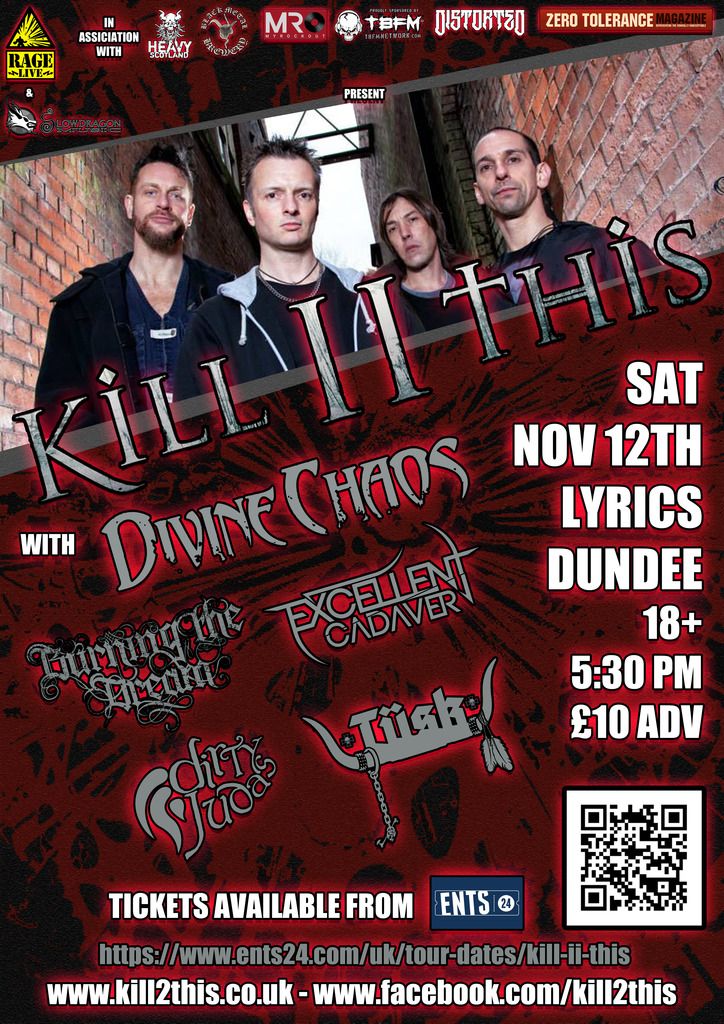 Our November 12th Slaughterpit cool down show will no longer be taking place at Beat Generator Live.
Because we've joined forces with another operation to bring you one almighty night of neck-wrecking metal!
Having recently heard from a fellow Dundee promoter Rage Live (DJ Zero) that they would be hosting none other than turn-of-the-century industrial metallers Kill II This, a new plan started to form. Collaboration over competition has always been the preferred party line in Slow Dragon Music (Critical Events/Hordes Of Belial depending on how long you've been part of the crew), so it seemed obvious it was time to step up to that standard.
What started out as a clash of two nights of full-on metal is now set to be a six band bill, with Kill II This, Divine Chaos, Excellent Cadaver, Burning The Dream, Dirty Judas, and Tusk, all coming together in a tour de force seldom seen in these parts!
This isn't the first time Kill II This, Divine Chaos, and Burning The Dream how played the same event, though. Just last month, all three played to highly receptive crowds on the New Blood, Sophie, and Ronnie James Dio stages at this year's Bloodstock Open Air.
The event is set to take place at Lyrics Club on St James St, Dundee, right next to the Seagate bus station, with an early start at 5:30 to allow for the extended bill. Tickets are available to buy now for pick up at the venue, at £10 from Tickets Scotland.