Dragon Fire is Slow Dragon Music's brief news round-up, filled with chunks of fleshy goodness.
---
You may have noticed that Dragon Fire went a little quiet for the past few weeks, but don't worry; there is method to the madness. We're still testing and trying new approaches, but by and large, it seems to be tickling a few people's fancy. This does mean we have a big backlog of 'in case you missed it' to add to the usual selection of musical morsels. Dig in!
---
Let's kick things off with something new! Original Swedish doom troupe, Candlemass, have launched a pre-order for their upcoming House Of Doom EP. There are also special edition etched vinyl copies coming, but they can only be obtained via playing the House Of Doom game…
---
Meanwhile, label mates, Dawn Of Disease, recently put out this little beauty. Leprous Thoughts is taken from their latest full-length, Ascension Gate, released last August.
---
For those who are more in the mood for something a little lighter and more trippy, Blackwater Holylight recently released their debut album. Seeping with sixties cool and nineties grunge, their eponymous introduction is a happy goth holiday from the norm.
---
Ever theatrical horror metallers, The Heretic Order, have released further details of their next album, including the artwork below and teaser video. Evil Rising is due out in June, via Massacre Records.
---
Before metal, there was still distortion, riffs, volume, and attitude! Brown Acid: The Sixth Trip is a compilation series of long lost, fuzzed out records from the 60s and 70s, the fourth installment going on sale today (20/04/18). Check out the lead track from Gold, to get your head in the space.
---
Lizzy Borden is set for a new album – the first in 11 years! My Midnight Things is released in June, but pre-orders are available from the official website where you can also watch the video for the title track.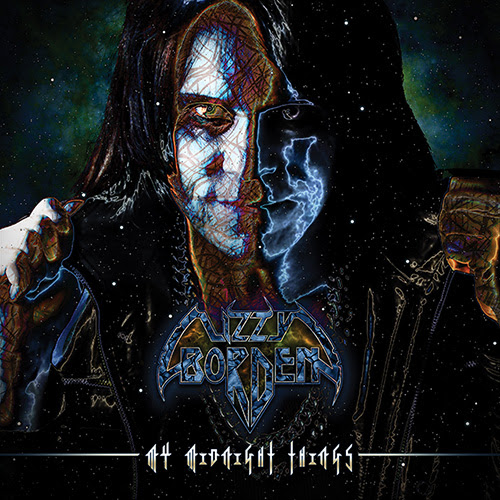 ---
Classic British metallers Neuronspoiler head out on an Eastern European tour in support of their Second Sight album next week, taking in Poland, Slovakia, and the Czech Republic.
---
Hard rocking Jizzy Pearl, former front man of L.A. Guns and Ratt, is headed your way! His Sticks And Stones UK tour with Love/Hate kicks of May 2nd at Bannermans in Edinburgh.
---
Over at The Moshville Times, you can catch a video exclusive from The Crawling. Released earlier this week, Poison Orange is the fifth from their Anatomy Of Loss album.
---
Metal Blade Records are re-releasing three classic albums from the legendary King Diamond this May 18th; Abigail, Fatal Portrait, and Them. Available as 180g picture discs, these exclusive editions can be purchased now at: metalblade.com/kingdiamond
---
It might have flown in under our radars, but Myrockout Promotions have hooked you up with a filthy Scottish exclusive. US "Dirty rock" outfit Nashville Pussy make an exclusive Scottish appearance at La Belle Angele, Edinburgh November 23rd. Support comes from Anaxor and Tantrum.
---
Scottish tech-death metal band Blood Thread will be joining Seek Solace In Ruin as special guest headliners at the Carlisle/Dumfries and Galloway Metal 2 The Masses final next month. It's great to see them back in action!
---
Swedish grass roots, classic rock trio Svvamp slid out another track from their upcoming Svvamp 2 opus this week. Hillside is being premiered over at The Obelisk.
---
Purveyors of Portuguese evil, Moonspell have unveiled a live promotional video for their track Desastre, ahead of a massive tour of Europe and the Americas (see below).
S America
22.04.18 CO – Bogotá / Auditorio Lumiere
23.04.18 CO – Medellin / Teatro Universidad Medellin
25.04.18 BR – Rio de Janeiro / Teatro Odisseia
26.04.18 BR – Sao Paulo / Carioca Club
28.04.18 BR – Recife / Abril Pro Rock Festival
29.04.18 BR – Belo Horizonte / A Autentica
30.04.18 AG – Buenos Aires / Roxy Club Live
01.05.18 CL – Santiago / Club Blondie
03.05.18 CL – Chihuahua / Teatro de la Ciudad
04.05.18 MX – Mexico City / Heaven And Hell
06.05.18 MX – Merida / Forum Mayan Hall
Europe
19.05.18 PT – Damaia / Cineteatro D. João V
14.06.18 PT – Régua / V Concentração Motard do Douro
27.07.18 PT – Gerês / Rock'Fest
29.07.18 GR – Crete / Chania Rock
03.-05./08.18 DE – Gossnitz / Live'n'Loud
10.08.18 PT – Vagos / Metal Fest
03.-04.08.18 CZ – Ostrava / v Plamenech
N America
07.09.18 US – New York, NY / Gramercy Theater
08.09.18 CA – Montreal / Cafe Campus
09.09.18 CA – Quebec City / Imperial de Quebec
10.09.18 CA – Toronto / Opera House
11.09.18 US – Ft Wayne, IN / Pierre's
12.09.18 US – Detroit, MI / Harpo's
13.09.18 US – Joliet, Il / The Forge
14.09.18 US – Minneapolis, MN / The Cabooze
15.09.18 CA – Winnipeg / Park Theatre
17.09.18 CA – Edmonton / The Starlite Room
18.09.18 CA – Calgary / Dickens
19.09.18 CA – Vancouver / Rickshaw Theater
20.09.18 US – Seattle, WA / El Corazon
22.09.18 US – Berkeley, CA / The UC Theatre
23.09.18 US – Anaheim, CA / City National Grove
24.09.18 US – West Hollywood, CA / Whiskey a Go Go
25.09.18 US – San Diego, CA / Brick By Brick
26.09.18 US – Tempe, AZ / Marquee Theatre
27.09.18 US – Las Vegas, NV / House of Blues
28.09.18 US – Salt Lake City, UT / Liquid joe's
29.09.18 US – Denver, CO / Herman's Hideaway
01.10.18 US – Dallas, TX / Trees
02.10.18 US – San Antonio, TX / Rock Box
03.10.18 US – Houston, TX / Scout Bar
05.10.18 US – Tampa, FL / Orpheum
06.10.18 US – West Palm Beach, FL / Kelsey Theater
07.10.18 US – Atlanta, GA / The Masquerade
09.10.18 US – Louisville, KY / Diamond Pub and Billiards
10.10.18 US – Durham, NC / Motorco
11.10.18 US – Baltimore, MD / Soundstage
12.10.18 US – Philadelphia, PA / The Trocadero
14.10.18 US – Clifton Park, NY / Upstate Concert Hall