Dragon Fire is Slow Dragon Music's brief news round-up, filled with chunks of fleshy goodness. 
---
The Slow Dragon has been in flight for much of this month. From Smashed Fest at the very end of July, to adventuring to both Wacken and Bloodstock open air festivals, a lot of amazing bands have been witnessed in the wild. This means there's a lot of catching up to do, though. After warming up with reviews of De Profundis and Multistorey Lover, it's time for one massive blast of Dragon Fire! Hope we unearth some something you'll love!
---
Mongolian folk metallers Tengger Cavalry recently released a video for Redefine, taken from their album Cian Bi, which came out earlier in 2018. This is intended as a celebration of the announcement that they will be playing Carnegie Hall's Weill Recital Hall, New York, on September 20th.
---
In case you missed it, UK doom lords, Conan, are less than a month away from the release of their next album, Existential Void Guardian, and, a couple of weeks ago, put out a video and single of the track Vexxagon.
---
Marwolaeth Records released a compilation at the start of August, under the title British Black Metal – Vol 1. Featuring our own Aberdonian deadites, Drekavac, it has been doing rather well, moving from a digital only release concept to a physical CD, paid for by the original proceeds. Get your copy from the label's Bandcamp store.
---
SDM recently reviewed the phenomenal new De Profundis album, The Blinding Light Of Faith. What we didn't realise was that the video for the track Martyrs was being somewhat overlooked in the online press, possibly due to its provocative subject matter. Well, we don't mind provocative, so here you go!
---
Skálmöld return with a brand new album this October 12th. The Icelandic folk metallers have a developed a concept release, titled Sorgir (sorrows), and split into two chapters; Sagnir (tales) and Svipir (ghosts). It is currently available for pre-order here.
---
Death metal brutes, Cattle Decapitation, have announced the re-fleshing of their ranks, with the addition two new members; guitarist Belisario Dimuzio (Eukaryst) and bassist Olivier Pinard (Cryptopsy).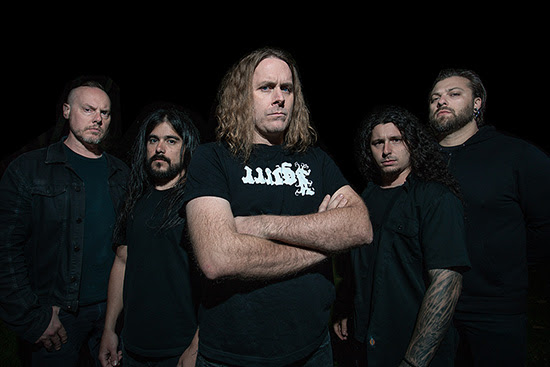 ---
Attention, old school thrash treasure hunters! Italy's Anguish Force release a new record on September 3rd! Classic metal feelings, and a bit of a throwback to when "cross-over" was a much fuzzier term. Chapter 7 will be available on CD/LP from Dawn Of Sadness.
---
Bizarrist progressive death metallers, Rivers of Nihil, have released a video for their track Where Owls Know My Name, exclusively on iTunes. If you haven't heard the album of the same title (released earlier this year via Metal Blade), we suggest you get a preview over here.
---
Swedes, Alastor, have premiered the title track from their upcoming Riding Easy Records release, Slave To The Grave. Harking back to what they term  "early occultist hard rock", this is some old-school, down and doomy stuff.
---
More from Metal Blade, as Boston MA death metal crew, Revocation, are getting warmed up for the release of their September 28th platter, The Outer Ones. Here's the title track over on YouTube.
---
If you fancy something (a lot) more melodic, look out for Beyond The Black's upcoming release Heart Of The Hurricane at the end of August. They recently updated their online presence with a video for Million Lightyears from the album.
---
One for the punks! Former member of The Adverts (among others), TV Smith, is releasing a new solo album on September 14th, via JKP, label home of Die Toten Hosen. Land Of The Overdose can be pre-ordered here.
---
On August 17th, Moonspell released a huge live DVD package, featuring a rockumentary, a 'making of', gallery, and three albums, played in full in concert; Wolfheart, Irreligious, and Extinct. Lisboa Under The Spell is available under a multitude of formats, include a rather nice 'fanbox'.
---
The second album from Belarus' Ominous Scriptures is to be released through US label, Willowtip Records. The Fall of the Celestial Throne promises to take us back to the start of the millennium, with "9 tracks of pure Dark Blasting Brutality". Sounds a suitable follow up to 2013's Incarnation Of The Unheavenly.
---
Black Mirrors from Belgium have released a third single from their imminent platter, Look Into The Black Mirror, out August 31st. Burning Warriors drives along with some powerful, catchy stoner grooves, and is instantly attractive in character.
---
Motor Sister (Scott Ian, John Tempesta, Joey Vera, Pearl Aday, and Jim Wilson) are heading back to the studio! Their next record won't be out until 2019, but in the meantime, you can catch This Song Reminds Me Of You, from 2015's Ride album.
---
Sometimes, you just can't beat a good old Sabbath cover. Faeries Wear Boots has been hit up by numerous bands over the years, but Monolord's super-suzzed version is something else. It's released in support of their current US headline tour (dates below)
08/18 Las Vegas, NV @ Hard Rock Hotel (Psycho Las Vegas)
08/22 Memphis, TN @ The Hi Tone
08/23 Atlanta, GA @ The Earl
08/24 Asheville, NC @ Mothlight
08/25 Lexington, KY @ Cosmic Charlie's
08/26 Newport, KY @ Southgate House
08/27 Columbus, OH @ Ace of Cups
08/28 Cleveland, OH @ Grog Shop
08/29 Detroit, MI @ Sanctuary
08/30 Indianapolis, IN @ White Rabbit
08/31 Chicago, IL @ Empty Bottle (Scorched Tundra)
09/01 Millvale, PA @ Funhouse
09/02 Buffalo, NY @ Mohawk
09/05 Cambridge, MA @ Middle East
09/07 Raleigh, NC @ Raleigh (Hopscotch)
09/08 Richmond, VA @ Capital Ale House *
09/09 Washington DC @ Rock N Roll Hotel *
09/10 Brooklyn, NY @ Saint Vitus Bar
09/11 Philadelphia, PA @ Kung Fu Necktie
* with Red Fang
---
Scotland's premiere underground metal and hard rock show case
Pre-order your tickets here!!!
Saturday September 29th at Beat Generator Live, Dundee
vvvvv Watch the Hordes Of Belial -Nine Lives YouTube playlist vvvvv